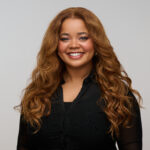 Ty's Story
My passion for all things people is what fills my cup!
My name is Tyrelle and I am the Human Resources Manager for Jur Family Group – here's a little background about me!
My Tim Hortons journey is full circle. My first job ever was at Tim Hortons at 16 years old. I did not know what to expect when I first started, however I quickly realized how much I enjoyed working in this type of environment, how much love I had for the brand and how valuable the relationships were with my colleagues. I learned and developed many skills I was able to carry with me throughout my career. I became more outgoing and confident in my abilities which ultimately led to my strong work ethic.
After a year and a half I decided to venture out into the retail space as a new opportunity presented itself – working for Target Canada. I was promoted within the year, making me the youngest Leader at the time. In this role I was able to truly hone my leadership skills when overseeing multiple departments and teams. I enjoyed meeting new people, developing my teams and implementing and executing team and companywide goals.
In 2015, when Target Canada closed, I sought out a larger retail leadership role as a Store/Operations Manager overseeing all operations of a stand-alone outlet store. During my two-years there, I decided to return to school to further my education and pursue my Business Administration studies at Red River College. I stepped down from a leadership role to focus on my full-time school schedule while still working in other retail spaces including opening a Nike store in Winnipeg. I decided to specialize in Human Resource Management in my second year of school. I knew the "people path" was the one best suited for me based on my experience and interests. Upon graduation my HR career was kicked into high gear. I worked in the trucking/logistics industry and then the tech space.
In Summer 2022, I returned to my Tim Hortons roots as the HR Manager at Jur Family Group. In this role, I oversee all things HR from recruitment, onboarding, training, performance and development, strategic planning, compensation, and benefits – just to name a few! My decision to return to Tims was easy. I missed this ever-changing, fast-paced environment and the ability to collaborate with teams in real time. This environment allows for me to work hard, have fun, and give back to the community. I was and continue to be very fortunate to work with an amazing team in an industry I've always loved.
I look forward to developing, supporting, and guiding our teams all while working for a reputable, powerhouse Canadian brand like Tim Hortons.
Want to learn more? Let's connect!