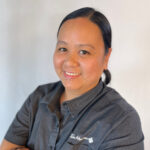 Lai's Story
My Tim's story started when I joined the Isabel location in August 2016. I previously had experience working in and managing a fast-food restaurant, however, Tim Hortons was a game changer. I fell in love with the brand because of Ken, Alicia, and team. They are on top of everything – making sure that the brand standards are well executed, the guests are taken care of, and the team is happy. The last seven (7) years working here has been an amazing journey. The day at work is always worth it, having seen people smile, learning, working with different personalities and embracing others culture.
At Jur Family Group they help you plan and map out success for everyone in the team. My Tims journey is a living example of this! I started as a front-line Team Member just like everyone else, but they gave me an opportunity to grow my skills and unlock some opportunities through training, workshops, and seminars. I am now working as an Assistant Manager at our Nairn location. I consider myself now established in my role, but they continue to develop me and help me to be the best version of myself.
If you are looking unlock your strengths and growth potential, come and join our growing family!