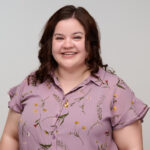 Karlee's Story
Every Cup Tells A Story – Here's Mine!
I'm a high energy HR professional focused on all things people for our four Tim Hortons locations.
My Tim Hortons story started like many people's do – being born Canadian! My childhood friends would comment on how much the Carreiros loved iced capps… but really it was Tim Hortons that became a staple in our diet and a regular drive-thru on our way to growing up.
My fate was sealed from there. I started my Team Member role in 2006 at a location down the street from my house. It quickly became a second family. Tim Hortons provided me the opportunity to grow and develop from a shy, introverted, young girl, into an outgoing leader, passionate about people and driven to make a difference.
After 7 years with Tim Hortons, I journeyed into Retail Service and Acting Management with Manitoba Liquor and Lotteries while working on my university studies. Following this, I had the exciting opportunity to intern with Scotiabank. Here I was able to work on mastering the art of Recruitment for the following 3 years. Looking for an opportunity to diversify my skillset, I then spotted a job opportunity I just couldn't ignore.
In 2018, I returned to my Tim Hortons roots, as the HR Manager at Jur Family Group. In this role, I had the opportunity to make a difference one cup and one person at a time. After 4 years as the group's Human Resources Manager, I shifted back into the operations arm of the business in 2022 into the Director of Operations role. In this role, I oversee and drive success of our 4 restaurant locations through planning, organizing, directing, innovating, and evaluating our day-to-day operations. I develop, mentor, and coach our team, working alongside each of them to prepare Canada's favourite coffee.
If you're ready to start your story, or would like to collaborate in writing mine, let's share a cup!