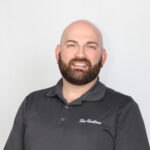 Cody's Story
It all started on a cold wintery day… I'm not kidding! It was February of 2021 and it was freezing!!
I was offered the amazing opportunity to work as the HR Generalist of the Jur Family Group, and I haven't looked back since.
I have been working in Customer Service for 20 years, from a Crew member in a quick service restaurant to a Payroll Administrator in a contact centre. The one thing that has always stayed consistent… my passion for the people. Whether it be taking an order, providing roadside assistance, or guiding someone through their paystub, I have always loved helping people.
Being part of Jur Family Group has only deepened that passion. They have given me an opportunity to bring my wacky energy and passion to this team. Being able to find the people that are the perfect fit for our restaurants, and then work beside them in the store has been one of the more rewarding opportunities of my career.
If this isn't enough to draw you in, come visit one of our stores. You won't be disappointed!