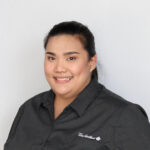 Lyssa's Story
Tim Hortons played a big part when I started my life here in Canada in February 2017. I am very grateful for Jur Family Group as they were the first ones who trusted my skills and abilities and maximized my full potential to take me to where I am today.
I have been through a lot of transitions in management within the restaurant and it taught me both how to be resilient and the importance of working as a team. These challenges made me step up my game and I started leading the team in September 2021 as a Team Leader . After a few months of learning, I was promoted as the Assistant Manager of the Isabel location.
I have never imagined myself leading one of the busiest location of Jur Family Group alongside Cyril and Silvia but with the support I have from the Team and the experiences that I had in 5 years with JFG, it has given me the confidence to take on this big challenge to advance my career.