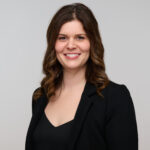 Alicia's Story
The Jurs' story is about as Canadian as a double-double.
Ken and Alicia Jur met back in 2004 in their teen years when they started working at the then new Tim Hortons location at 2500 Main Street in Winnipeg, Manitoba. Both in high school at the time, they quickly realized this is something they both had a passion doing.
"We kind of grew relatively quickly in the Tim's we started at," Ken said. "From front-line team member to supervisor, both of us went on to manage different restaurants for that franchisee. Ultimately, we helped that franchisee go from two restaurants at that time to six in our various roles."
Fast forward to 2018, the couple is married with three children: Evan, Ian and Ava. and are now proud owners of four Tim Hortons restaurants: 19 Marion St, 188 Isabel St, 854 Nairn Ave, and 1572 Regent Ave.
Both their family and their business has grown alongside each other.
"We were offered the location on Marion St in 2013, then found out we were expecting Evan," Alicia said. "He was three months old when we opened Marion. We got the offer for Isabel when we found out we were expecting Ian, and then a couple years after we were offered Nairn Ave after we found out we were expecting Ava."
"We had a kid with every store we had the opportunity to take on," Ken joked. "But there's not a fourth coming! No more!"
The Jurs opened their brand-new Nairn Avenue location in 2018, and are took over ownership of the nearby Regent Avenue location in the fall of the same year. Between the four locations, they employ 175 "teammates," from front-line workers to supervisors and managers.
"Having teammates join us and grow with us is a way for us to give back," Ken said. "They're all ground-up people who've learned and love the business."
"For us, Tim's means opportunity," Alicia added. "And not just for us, for everybody. We've tried to pass that on to our team as well."
The Jurs both say they've stayed with Tim Hortons for so long because they believe in the brand. For them, it feels like family.
"We got really lucky, and worked hard, to grow in this brand the way that we did," Ken said. "It has turned into a great career for us."
For the Jurs, being able to grow their business means they are also able to give back. Along with franchisee initiatives like the Tim Hortons Foundation and Timbits Sports, Ken sits on the board of the Children's Rehabilitation Foundation as well. The annual in restaurant Smile Cookie drive benefits this foundation helping them service children and youth with disabilities live as independently as possible.
"The main driver behind it is we've been blessed, lucky and successful, so we have to thank the community that's done that for us," Jur said.